David Gruber receives
AAUP Tacey Award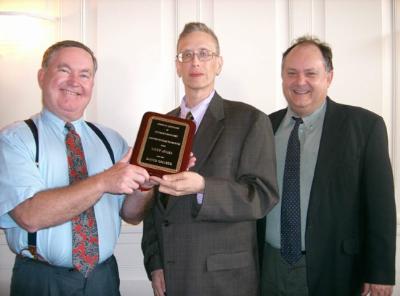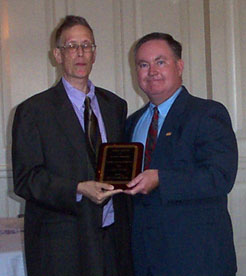 In a special presentation at Truman State University, on
May 9, 2005, David F. Gruber (Professor of Philosophy) received the
Tacey Award from the Assembly of State Conferences (ASC). Tom Guild, Chair
of the ASC, made the presentation and also read a
resolution of appreciation from the AAUP
Executive Council and the letter of
nomination from the Missouri State Conference.  The ASC is the umbrella
group within the American Association of University Professors (AAUP) currently
representing 41 state conferences nationally.  Barbara Dixon, President of
Truman State University, joined in by extending the congratulations of the
Gruber's home institution.
The ASC Tacey Award is presented to an individual for
outstanding service to a conference over a number of years. State conferences
nominate individuals, and the executive committee of the Assembly of State
Conferences decides whether any of the nominees is qualified to receive the
award. Except in rare circumstances, only one award is given, nationwide, in any
year. In his speech of acceptance, Gruber explained why he considered the Tacey
Award to be so important. "It is at the level of the state conferences where the
really critical work of ASC is being done, in my experience. The most committed
people gravitate to that level. They respond to concerned campus individuals who
contact AAUP to form a chapter; they have to find out who the best people might
be to carry out the important work of beginning or reviving an AAUP chapter and
assist in getting those folks the support and training they need to sustain
professional and academic values. To be given the Tacey Award is the highest
honor I could have."
Gruber's work has also been honored this year by Truman
State University's Faculty Senate, the Truman AAUP chapter, and the Missouri
Conference of AAUP, which, with the assistance of the Assembly of State
Conferences, has established the David F. Gruber
Leadership Development Award to support the training of AAUP activists.
Nomination for the Tacey Award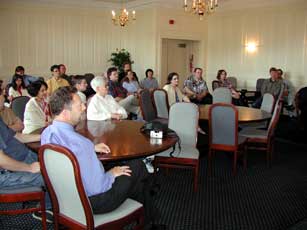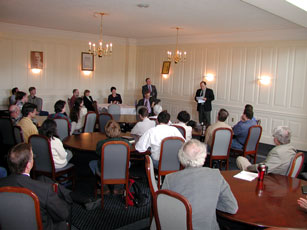 A crowd gathered in the Spanish Room for the presentation of the Tacey Award.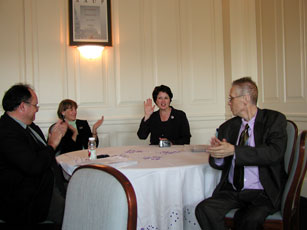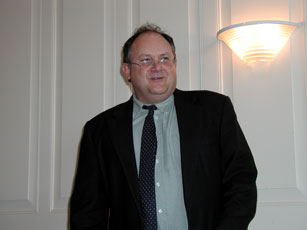 L-R TSU AAUP Chapter president David Robinson, University president Barbara
Dixon, Laura Gruber, David Gruber.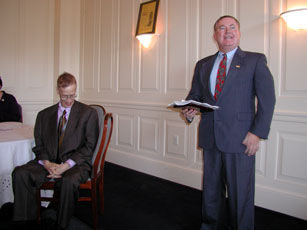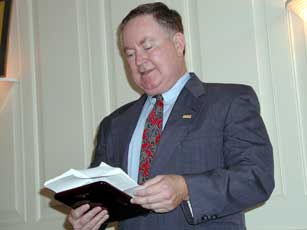 Tom Guild, chair of the Assembly of State Conferences of AAUP, presents the
award to David.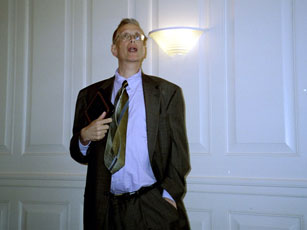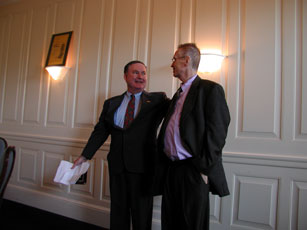 David's
acceptance speech.
For more photos, visit
http://www2.truman.edu/~drobinso/Photos.htm